We all know that a balanced diet helps us stay healthy and active. But it is not always that simple. With busy diaries and hectic schedules, it can sometimes be tricky to eat the way we know we should. Furthermore, the quality of food available today is often compromised due to environmental conditions. Luckily, our product range can provide the nutrition that you are missing.
Whether you want to support general well-being or an active lifestyle, enhance your beauty from within, find a weight management programme that works or simply kick-start your day; Nutrilite™ and XS™have the solution. From foundational and targeted food supplements to products that help you lose and maintain weight – discover a variety of nutritional options to suit your individual needs and help you stay on track.
Source amway-lithuania.com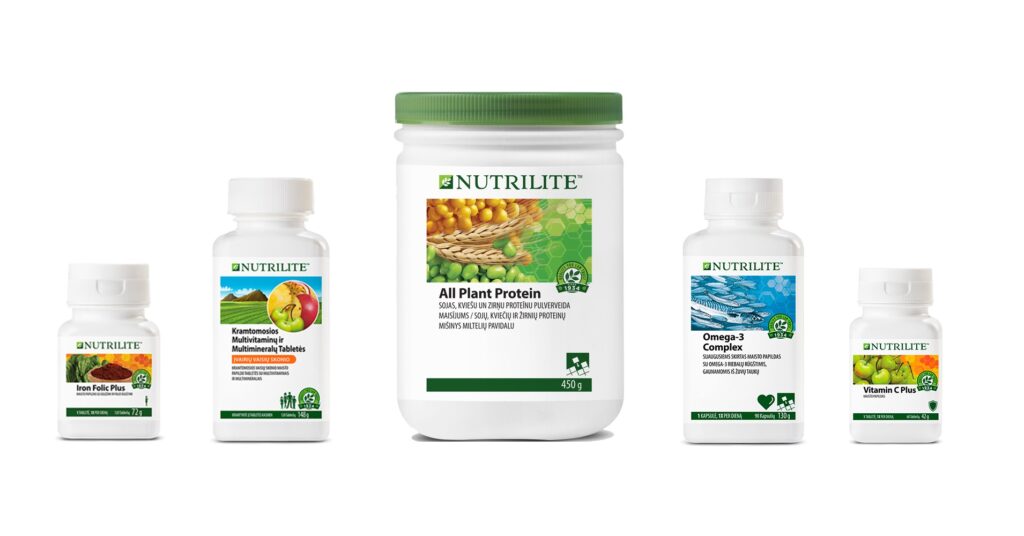 Here are the TOP five of our favorite products
Витамин В Плюс Nutrilite™ 
Диетическая добавка Nutrilite™ Витамин B Плюс – это таблетка двойного действия на основе натуральной спирулины с высокой концентрацией всех восьми незаменимых витаминов группы В, которая обеспечивает как моментальное, так и пролонгированное их высвобождения в течение восьми часов.
Омега-3 для детей от Nutrilite™ 
Диетическая добавка Nutrilite™ Омега-3 для детей содержит жирную кислоту класса омега-3, ДГК, которая способствует нормальному функционированию мозга и здоровому зрению. Полезным для здоровья является ежедневное употребление 250 мг ДГК.
Витамин D Nutrilite™  
Диетическая добавка с витамином D, полученным из природных источников, способствует поддержанию здорового состояния костей, зубов, нормальному функционированию мышц и иммунной системы.
Витамин С плюс Nutrilite™  
Витамин С – незаменимое питательное вещество, необходимое для поддержки здоровья и красоты. Витамин С помогает бороться с вирусами и инфекциями, укрепляет иммунитет, обеспечивает антиоксидантную защиту организму, а также дарит коже здоровье и молодость.
 Chewable Cal Mag Nutrilite™ 
A food supplement with calcium and magnesium that supplies these two essential minerals.
The early years are the most important in a child's development. Calcium plays a vital role in helping to build a solid framework of healthy bones and teeth.
Magnesium contributes to the normal nervous and muscle function. Help to build a solid foundation by supplying you and your child with delicious, fruit-flavoured form of calcium and magnesium.