Amway Home™ products get the job done. They are rich in high active ingredients sourced from nature that deliver exceptional result for surfaces, dishes and laundry, whilst being safe for you, your family and environment.
Naturally -derived ingredients ensure skin protection and guaranteed to provide a shine throughout your home.
Here are the TOP five of our favorite products
Multi-Purpose Cleaner Amway Home™ L.O.C.™
Keeping our homes safe and clean has never been more important for us and our families. Thankfully, keeping your home spotlessly clean could not be easier with L.O.C Multi Purpose Cleaner. This effective, all-purpose cleaner easily cuts through dirt, soil build-up and grime on all washable surfaces to leave your home looking, feeling and smelling sparkling clean. You can feel confident too that you're not introducing anything harmful into your household as L.O.C Multi Purpose Cleaner has been formulated with ingredients derived from natural sources and without phosphates, harsh acids or chlorine. Plus, it's completely biodegradable.
Concentrated Dishwashing Liquid DISH DROPS™
Dish Drops™ Concentrated Dishwashing Liquid easily cuts through grime and baked on grease for sparkling clean dishes. Washing the dishes needn't be a chore. Thanks to its fresh and uplifting citrus scent, doing the washing up with Dish Drops Concentrated Dishwashing Liquid is actually enjoyable. This gentle but concentrated cleaner effortlessly cuts through grease and baked on deposits to leave your pots, pans, cutlery and crockery squeaky clean. Containing aloe vera, alpha-hydroxy acid (AHA) and natural extracts from the Shiso plant (a Japanese herb), this everyday staple easily cleans without stripping your skin or leaving your hands feeling dry and dehydrated .
All Fabric Bleach SA8™
SA8™ All Fabric Bleach offers powerful cleaning performance with colour-safe non-chlorine bleach for a multitude of textiles and surfaces. This powerful bleach detergent booster is based on oxygen bleach, rather than chlorine, so it cleans without fading colour intensity. Hugely versatile, SA8 All Fabric Bleach effectively treats all types of organic stains and odour on a variety of textiles around the home including carpets. Additionally, use SA8 All Fabric Bleach on grouting, showers, sinks, wooden decks, cement, rubbish bins, garbage disposers, aquariums, fencing, tents and much, much more.  . 
Pre-Wash Spray SA8™
This easy to use, lightly fragranced pre-wash treatment removes stains like butter, oil and sauces.
One quick spray works like magic on all washable, colourfast fabrics (except wool or silk) and it's particularly good for getting rid of grime on collars and cuffs.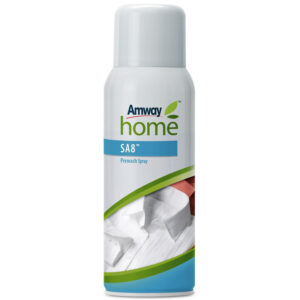 Spray Cleaner Concentrate ZOOM™
A concentrated, multi-purpose spot cleaner effective at removing stubborn household stains.


The fast-acting formula dissolves greasy, oily, grimy, messy stains from most washable hard surfaces. Simply mix with water in our Amway Pistol Grip Sprayer, spray and wipe!